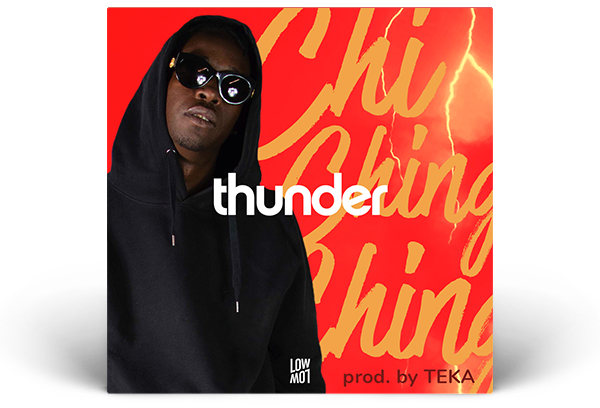 Chi Ching Ching – Thunder
Single out now!
Find buy & stream links below.
''This is real dancehall!'' – Chi Ching Ching fell in love with a TEKA riddim.
Update: We're excited to share the new visual for Chi Ching Chings "Thunder" today: Ching takes the bashment to the countryside. Here he supports an old friend with his very own farming skills. That's definetely not a regular farm day! Watch it above.
---
Calling all skankers: Kingston's notorious chainsaw voice Chi Ching Ching has recorded a straightforward bashment banger at LowLow studios in Berlin.
''Thunder'' is about loudly clapping bootys and the heat of the night. The raw energy of the riddim built by TEKA reflects the party that took place the night before. Ching directly fell in love with the dynamic and pumping bass line: ''This is a real dancehall riddim!'', he shouted pouring up his crystall glass with Hennessy.
Chi Ching Ching is a champion of his craft. In his career he easily transformed from a street dancer in Kingston's famous night life to an international reclaimed recording artist. Currently, Ching is signed to Sean Paul's Dutty Rock label and has toured the world on numerous occasions.
Label owner TEKA is the producer of ''Thunder'' and has created hits with the likes of Lutan Fyah, Richie Spice,
Keep it low,
LowLow
Single release: 28th Feburary 2020 via LowLow Records
Artist: Chi Ching Ching
Producer: TEKA
Artwork: Jonathan Gehlen